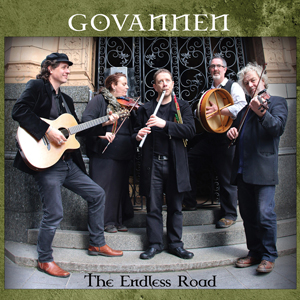 | | |
| --- | --- |
| 1 | Raggle Taggle Gypsy |
| 2 | Herbert The Sherbet - Zakynthos |
| 3 | Down By The Salley Gardens |
| 4 | Humours Of Ennistymon - Burnt Old Man |
| 5 | Indian Tea |
| 6 | Galway Girl - (not on Bandcamp) |
| 7 | A Stor Mo Chroi - Farewell To Erin |
| 8 | When Will We Be Married |
| 9 | Kitchen Girl |
| 10 | Lifespell |
| 11 | Billy In The Low Ground - Blackberry Blossom |
| 12 | The Snow And The Fire |
| 12 | Shannons |
| 14 | The Endless Road* |
Adele McMahon -

violin
Dan Britton -
vocals, guitar, bodhran, bouzouki

Chris Conway -

vocals, keyboards, Irish whistles, kalimba, percussion

Neil Rabjohn -

cajon drum, vocals, percussion

Roger Wilson -

vocals, violin, guitar


* includes a clip of Dan McMahon singing The Boys Of Barr Na Sriade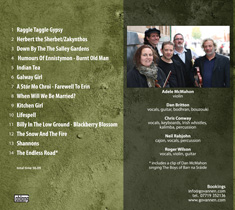 Original and traditional songs and traditional tunes
with the Govannen live sound captured in the studio.


background
Govannen have not until now done a studio album with songs, so they had been wanting to do that for some time. They also wanted to have some of their original songs that they play from time to time. - so there is one each from Dan, Chris & Roger. So along with some traditional tunes, they went to Tiny's Studio in order to get their live sound, and yet with proper studio sound.

They also added some old favourites from their live set, and some tunes Roger brought to the band.


influences
Planxty, Donal Lunny, The Bothy Band, The Chieftains, Sharon Shannon, The Pogues,


trivia
Released to celebrate 10 years of Govannen.

Adele's father Dan passed away while making this album. Included at the last track is a clip of him singing in a pub in Ireland.

Recording began in the summer of 2014 but was suspended as Roger got a part ina theatre production of Treasure Island in London for several months. Recording and mixing resumed in January 2015.