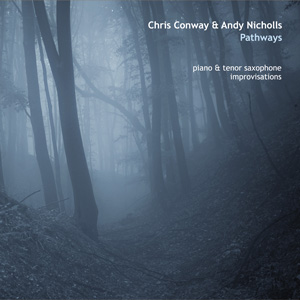 | | |
| --- | --- |
| 1 | Uncharted Waters |
| 2 | The View From Here |
| 3 | Gentle Fire |
| 4 | Open Skylight |
| 5 | In A Mist Of Trees |
| 6 | Magic Box |
| 7 | After All |
| 8 | Pathways Unwalked |
| 9 | Late Conversation |
Chris Conway -
piano
Andy Nicholls -
tenor saxophone
+
live outside recording - track 4
prerecorded finger cymbals, shakers, chimes, zither - track 6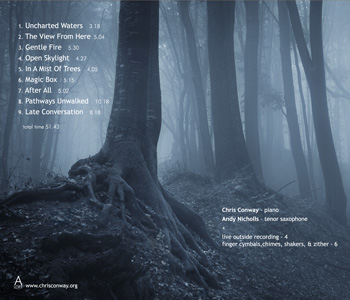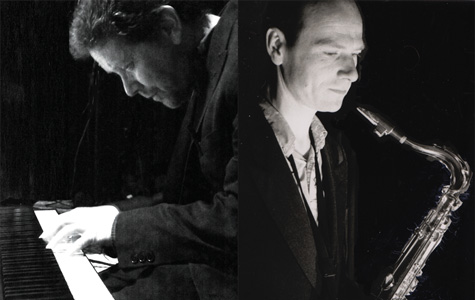 Piano & tenor saxophone atmospheres.

An album of wonderful lyrical interactions that demonstrate the level of
understanding between two musicians who have played together for 27 years.
background
After 27 years playing jazz together, Chris Conway and Andy Nicholls decided to do something they had not done before - record and album of improvisations. For Chris Conway this was alogical extension of his solo piano improvisation albums Glisten. Midnight Window Blue & Outside In.

They started recorded the first track Uncharted Waters casually when Andy visited Chris for a cup of tea. They then recorded tracks 2-5 on afternoon in the summer. Chris got busy for a while so they convened again in January 2017 to record 6-9.

On Open Skylight, Chris used an idea from his album Outside in and they played while 2 microphones were placed facing out of the studio skylight picking up outisde sounds of first rain, then birds.

On Magic Box they prerecorded themselves playing shakers, finger cymbals, chimes, and an old zither, then improvised over that. Other than that, the whole album was recorded live.


video
Uncharted Waters



influences
Marcin Wasilewski, Steve Kuhn, John Taylor, Bobo Stenson, Charles Lloyd, Joe Lovano, Joachim Milder.


trivia
4 other tracks were recorded, but were not selected for the album.

The first recording Chris Conway & Andy Nicholls made together was on Chris's 4am album in 1990.

Total time - 51.43


review
CHRIS CONWAY & ANDY NICHOLLS -

Pathways




****




Hot on the heels of his duo album,

Safe Harbour

, with fellow singer-songwriter Dan Britton, Leicester-based Chris Conway recorded this album of instrumentals with tenor sax player Andy Nicholls. Indeed, Conway is a talented multi-instrumentalist and here he contributes piano. The pair have enjoyed playing jazz together for approaching three decades now but their improvisational approach on

Pathways

, pretty much live in the studio, is a first for them.




It's a magnificently mellow sound that they conjure, on tracks entitled 'Gentle Fire', 'A Mist Of Trees', and 'Open Skylight' (graced by the resultant rain and bird sounds), perfect for late nights or that slow-to-surface Sunday morning-after-the-night-before, and the two musicians' mutual familiarity is evident in the relaxed, intimate sounds that they generate.



David White - RnR Magazine