| | |
| --- | --- |
| 1 | Ice Palaces |
| 2 | On Wings Of Light |
| 3 | Reflections In A Cloud Jungle |
| 4 | A Thousand Seeds |
| 5 | The Unknown |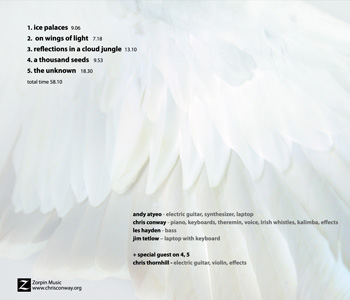 Andy Atyeo -
electric guitar, synthesizer, laptop

Chris Conway -

piano, keyboards, theremin, voice, Irish whistles, kalimba, effects
Les Hayden -

bass

Jim Tetlow -
laptop with keyboard
+ special guest
Chris Thornhill -
electric guitar, violin, effects - 4,5
background
Audible Light multi-track recorded this live at the Ambient Underground 6 event at The Cookie in Leicester, giving a best-of-both-worlds of a concert performance but mixable afterwards. They knew the concert music was special but only when they went through the recordings did they realise just how special.

They hadn't played together for quite a few months and there was a freshness in their approach.



influences
Tape, Robert Rich, Vidna Obmana, Alio Die, ECM, Terry Riley, Azimuth, Steve Reich, John Hassell.


trivia
Recorded live at Ambient Underground 5 event at The Cookie, Leicester, UK.

Though there was some editing, the tracks were played in the same order as they appear on the album. No tracks were deleted.

The Cookie venue had just reopened after a flooding incident, so the stage sound equipment was brand new - they were the first t use it - and the stage soudn was excellent.

CC's fave track -Ice Palaces


review

AUDIBLE LIGHT - Essence


****




Meanwhile, in yet another release Chris Conway, and fellow musicians Andy Atyeo (electric guitar, synthesiser, laptop), Lee Hayden (bass), Jim Tetlow (laptop with keyboard) – collectively known as Audible Light – and guest Chris Thornhill (guitar, violin, effects) have recorded

Essence, another in their series of ambient collections, this one multi-tracked live at the Ambient Underground 5 event in Leicester.



Conway himself contributes keyboards and theremin amongst other sounds and textures, and overall

Essence

proves a suitably moody complement to the jazzier Conway & Nicholls album

Pathways, each album stimulating and relaxing in equal measure.

David White - RnR Magazine